Boss Mom Feature: Megan Caldwell, Owner of FIT4MOM Cedar Mill
Shelley Hopper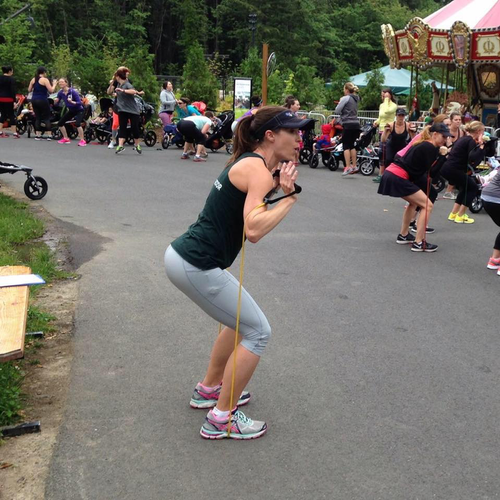 Meet Megan Caldwell, Owner of FIT4MOM Cedar Mill
1) What did you do before becoming a FIT4MOM franchise owner?
Before becoming a mom I was engulfed in a career in education. I worked in south-central Los Angeles teaching high school special education. Growing up an athlete, I loved spending my time outside the classroom coaching our school's varsity basketball team and training for a couple marathons. In 2010, my oldest son was born and what a whirlwind it was! I accepted a new faculty position at Loyola Marymount University, teaching and coaching math & science teachers so they could better support their students with special needs. I didn't have any friends with kids, and was grateful when I stumbled upon my first Stroller Strides class when Connor was only 7 weeks old. Little did I know that first class would change my life. I became a regular evening and weekend member, and about a year in got certified to teach Stroller Strides! While my career in education was very fulfilling, it took me about a year and a half to realize motherhood changed my perspective and priorities, and I knew I needed to transition to something different – in my mind, I wanted to be a stay-at-home mom!
2) What inspired you to change paths and own a FIT4MOM franchise instead of your prior career/life path?
Eighteen months into parenthood, my husband and I picked up our life in LA and moved up to Portland, OR! The one consistent thing during this transition was finding a new FIT4MOM village, which welcomed me with open arms upon arrival. Portland brought us closer to family, and I thought I'd begin to live out my dream of being a stay-at-home mom. Little did I know, I was wrong! Although I enjoyed spending all this new found time with Connor, I wanted something more. When the opportunity came up to purchase a local resale FIT4MOM franchise, my husband's words verbatim were, "You'd be stupid if you didn't take this opportunity." As a client, FIT4MOM helped me navigate that first year of motherhood, as an instructor I saw how I could share my passion and knowledge with others, and being a franchise owner has helped me reach even more moms while carrying out my love for teaching, my love for fitness and my love for motherhood.
3) How do you feel a company like FIT4MOM empowers women?
FIT4MOM empowers women on ALL different levels. Not only do our programs support moms in all stages of life in the fitness world – there's so much more than that! Attending and teaching Stroller Strides & Body Back classes allowed me to see how FIT4MOM's programs reached moms in more ways than physical strength. I love how our beliefs and values lead us to support women in all areas of their life, as Strength In Motherhood® is way more than physical! Now having been a franchisee for close to five years, I have a broader perspective on this – owning a FIT4MOM franchise empowers boss moms to own & operate their own businesses, making a true difference in each of our communities, all while having the flexibility to spend time with our children. We've got the flexibility to create and define Our Villages based on our needs & wants, as small or as large as that may be.
4) Have you found support from other FIT4MOM franchise owners? How?
Sisterhood in Motherhood. FIT4MOM franchise owners come from all walks of life. Although we each have our own story, we each share the same passion for helping moms find strength in motherhood. Our FIT4MOM franchise network is magical – those that have mastered a craft within the business openly share best practices, tips & tricks, problem solve. In-person meetings are filled with hugs and tears, late night messages or phone calls with women across the country occur regularly and help me to thrive. This organization is all about building women up. It's amazing to me how this occurs not just on the front lines with our clients, but through the instructors, franchisees, and home office staff. We are all in this together!
5) How has being a FIT4MOM franchise owner helped you have a career that is balanced with motherhood?
Since the beginning, I've stated that being a FIT4MOM franchise owner combines my passions for education, fitness & spending time with my children. I love that I've had the choice to make FIT4MOM what I want or need it to be, all while having the overhead support of our FIT4MOM home office. In the past five years, I've seen my business ebb and flow – from beginning it as a means to help me keep my sanity (I wasn't meant to be a full-time stay-at-home mom!) to where I'm at now, working to grow Our Village, grow my business, so it not only reaches more moms in Portland, but also supports my family financially. I love that FIT4MOM is on forefront of fitness & wellness trends, and truly believe they have grown the franchise model to allow it to be a career for women who want it to be, not just a pastime during the younger years of motherhood. It's inspiring to see & meet the franchise owners who have been in this for over a decade and are still going strong!
6) How did you know you had what it took to run a franchise business?
Truthfully, I didn't! I knew I could lead a fun, challenging, leave-you-feeling-awesome workout, but I entered this with no business experience (unless you call my childhood lemonade stand a true business!) What I did know is that I had the passion for supporting others, and operating as a franchise allowed me to have support from above for any and all questions I encountered.
7) What kind of support and training did you receive from the FIT4MOM home office to start and grow your franchise?
The passion for helping moms find strength in motherhood can be seen across all levels of our company. From the gals who helped me go through the purchase of a resale franchise, to the master trainers who walked me through getting certified to teach, there is support on all levels. I've worked with mentor franchisees to help me problem solve, I've had one-on-one conversations with our CEO and chief founding mom, I've attended in person trainings and conferences.
8) How has being a FIT4MOM franchise owner helped you achieve your life goals?
I've always told myself I would be in a career that brings me joy, and in my adult life, I've found it's jobs that are serving others that brings me the most joy and fulfillment. As a special education teacher, I was determined to help my students find their strength, break past stigmas and find success in the classroom (& beyond!) With my passion for educating others, I'm now carrying this out in a different realm – on a daily basis I get to work with the most powerful population – MOMS! I truly enjoy watching clients step outside their comfort zone, whether that's in a workout or our village event, and take that next step towards bettering themselves.
9) How do your own values align with FIT4MOM?
My personal values are very much in line with FIT4MOM! I am a firm believer in living with a sense of optimism. I see the power of positivity and hope to share this with everyone I meet. I value building and nourishing relationships and believe we are in this together! What may be a challenge for me, may be a strength for someone else, and together we can help each other be our best.
10) How has your local chapter become a community of moms?
From Day 1 as a franchise owner my focus has been on community – both creating a community accepting of all moms, and also providing resources for moms within our local community. Along with offering Stroller Strides, Stroller Barre, Body Back & FIT4BABY, we have active participation in weekly playgroups and monthly mom's nights out at each of our locations. I've seen friendships form and grow over the years. We celebrate births and special occasions, and we stand strong when members are facing challenging times in their lives. We participate in quarterly "give back" events – everything from holiday family adoptions to diaper drives for local organizations to participating in our local March for Babies & Buddy Walks. What makes me most proud is the feedback we get about how welcoming our community is, both from members within our village, as well as from those outside as well.
11) Where do you hold your classes? How can people sign up to take a class?
FIT4MOM Cedar Mill offers classes in NW Portland, Cedar Mill, Bethany, and soon we will be back to NE Portland! We are inside during the winter months, and outdoor at local parks during the nice seasons. To sign up for a free class & see our full schedule, please visit cedarmill.fit4mom.com or email cedarmill@fit4mom.com
12) How long have you owned your franchise?
I just celebrated my FIVE year anniversary this April!
13) Who are you a mom to?
I am mom to Connor (7 years old), Cameron (4.5 years old) and Charley Jeanne (2 years old), and married to my husband Bo (10 years).
Want to learn about other boss babes in our community?
Check out this article here.