Boss Babe Friday Feature: Lindsay Maurer of FIT4MOM Fruita
Shelley Hopper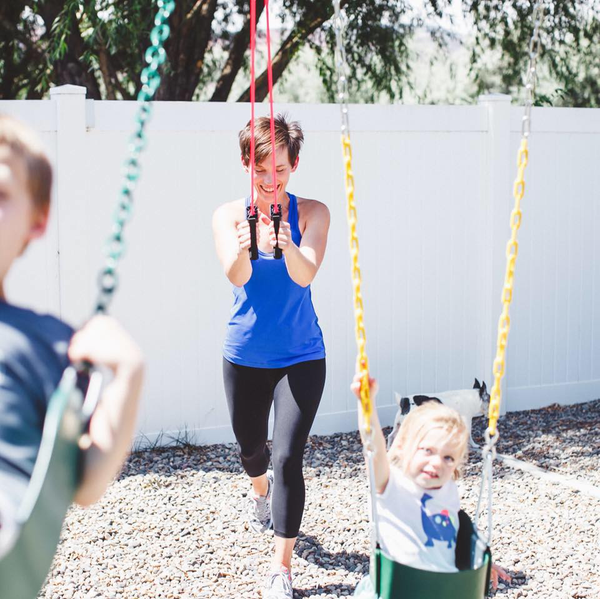 Happy Feature Friday!
Today, we're featuring Lindsay Maurer, owner of FIT4MOM Fruita, as part of our #F4MBossBabe series. We asked Lindsay a series of questions of what it's like to be a franchise owner within FIT4MOM, and here's a sneak peek into the life of a FIT4MOM franchise and mompreneur:
Who are you a mama to?
I am a mom to Ollie who is almost 7 and Dagny who is almost 3! Also a cinnamon labrador and two rat terriers named Stickers, Rocky and Sierra, a bunny named Carrots and a fish named Stuart.
What did you do before becoming a FIT4MOM franchise owner?
I was an exercise physiologist in an inpatient therapy program and a personal trainer for years before I became a franchise owner.
What inspired you to change paths and own a FIT4MOM franchise instead of your prior career/life path?
After I struggled with finding my new normal and postpartum depression with both of my children, I knew it was time to make a change. As a fitness professional, I wanted to provide a place where fitness was actually family friendly and children could be included in their moms' self-care. Moms could practice self-care without guilt and without childcare.
How long have you owned your franchise?
A little over two years. I purchased in November of 2015 and started offering classes in February of 2016.
How do you feel a company like FIT4MOM empowers women?
FIT4MOM provides an amazing platform where women can be professional and run a business without having to sacrifice their time with their children. Through its franchisees and their instructors, FIT4MOM is also empowering women to be their best selves…to unapologetically seek out community and self-care.
Have you found support from other FIT4MOM franchise owners? How?
Yes! This was actually a big surprise since the nearest franchise to my location is at least 4 hours away. I was immediately embraced and supported by my fellow Colorado franchisee sisters but also nationwide. It's amazing the relationships that I have formed with women all over the country who can understand my platform and who are in the same boat. Now when we see each other at conference, it starts with a big hug and then we have the best time together.
How has being a FIT4MOM franchise owner helped you have a career that is balanced with motherhood?
My two children are with me all the time. I call them the Co-Vice Presidents of Member Relations at FIT4MOM Fruita and they wear that badge with pride. I struggle with balance at times, just like everyone else, but it has helped me establish some healthy boundaries as well. They have quiet time when I need to work on the business side of things where they paint, play, etc. The TV is off and everyone is working on something that they enjoy and is important to them. I love that they get to come with me to teach classes. They see the amazing truth that fitness is FUN! We're changing generations one Stroller Strides kid at a time! I can run a business in the field that I love AND have my children with me. What an amazing thing!
How did you know you had what it took to run a franchise business?
HA! I didn't! After my daughter was born and my husband and I knew we weren't having any more children, I knew I wanted to go back to work in some way. I had job offers on the table for inpatient positions at our local hospital, training positions and a corporate wellness job but I was hesitating. It finally took my husband telling me to "do the thing that scared me the most" to buy my franchise. Running my business is truly my calling…it scares me the most and I would do it over and over again.
What kind of support and training did you receive from the FIT4MOM Home Office to start and grow your business?
They make starting and growing my business so easy! Beautiful branding, easy to use systems and a wonderful support team who is always ready to help makes for a turnkey experience. All I have to do is use these tools to get my mamas to class and then my team makes them lifetime members. I am so thankful for the trailblazers before me who are always willing to help!
How has being a FIT4MOM franchise owner helped you achieve your life goals?
I have learned that I can be professional and still be present in each of my children's everyday lives. I have met mentors in the fitness industry that I would have never met before and I have learned so much from them. I have traveled. I have received world class education and training. Mostly, it has allowed me to make a difference…to leave a legacy. It is so rewarding to see women really come into their strength, both physically and mentally through our programs. FIT4MOM changes lives…I see it everyday in my team, my members and my own.
How do your own values align with FIT4MOM?
Acceptance is something that I have always strived to practice and teach. FIT4MOM accepts women for who they are…strong, powerful leaders. FIT4MOM sees those traits in women before they even see them in themselves. We create a space of community and acceptance for all women. We celebrate each other for our strengths and lift each other up when we need help. We are the sistering joints in this delicate, amazing and complex structure of motherhood.
How has your local chapter become a community of moms?
We genuinely care for each other. We support each others businesses, we flood each other with support in times of struggle, we volunteer together and more. Our tribe is so special. I am so lucky to have formed friendships like the ones through my franchise as an adult.
Where do you hold your classes? How can people sign up to take a class?
We hold Stroller Strides, Stroller Barre, Run Club and Body Back at local city parks and community centers. CLICK HERE to sign up for a free class!
If you're local to Lindsay, visit https://fruita.fit4mom.com for more info.
If you're not, visit FIT4MOM.COM to find your nearest FIT4MOM classes and location(s)!