Transformation Tuesday: Kirsten Djonne of FIT4MOM Greater NW Chicago Suburbs
Shelley Hopper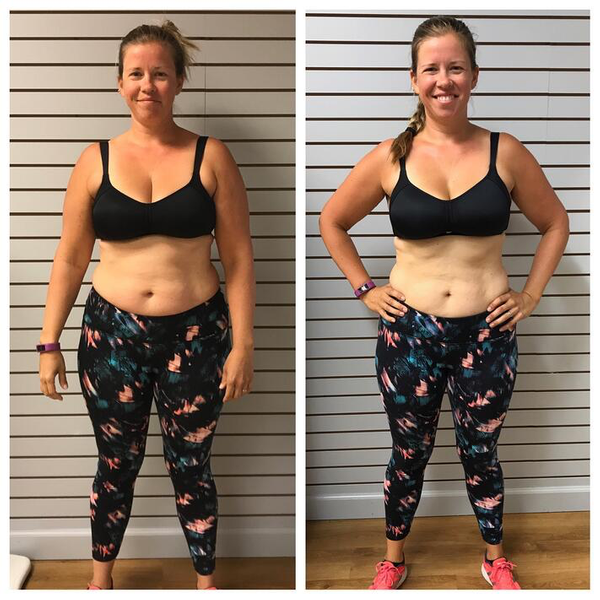 Happy Tuesday! Today, we're bringing you a beautiful #TransformationTuesday story from Kirsten from FIT4MOM Greater NW Chicago Suburbs, who shares her FIT4MOM story below:
"Hi! My name is Kirsten aka Kiki. I currently live in a suburb of Chicago with my hard working husband, Ken, and my kidlet, Sunniva, who is turning 4 next week. I am a SAHM with two side jobs. I have a small business making mama and mini matching yoga pants, and I am a Stroller Strides and Stroller Barre instructor for FIT4MOM Greater NW Chicago Suburbs.
I was very active during my pregnancy. After I had Sunniva, I had some major depression. It was debilitating. I met Jill Jaeger by happenstance. She was a FIT4MOM instructor in St. Pete, Florida and she helped change my life. I drank the Kool-aid she was pouring. I became an instructor a year later. I have since moved. I was welcomed in by Nicole Fraser and Kristen Knoblock as an instructor.
I joined BBT because I saw how AMAZING the results were and I knew I needed it. I did a 5 week mini the beginning of June. I lost 10 pounds! I stayed on the meal plan about 90%, (which is delicious, by the way) and kept on working out with Stroller Strides after the mini session and I lost another 10 pounds! I'm doing an 8 week session now and can't wait to see the results! Thank you FIT4MOM for this awesome program and for FIT4MOM Greater NW Chicago Suburbs for all of the support!"
Want to share your FIT4MOM transformation?
Email photos and your story to shelley@FIT4MOM.com