Pancake Muffins
Shelley Hopper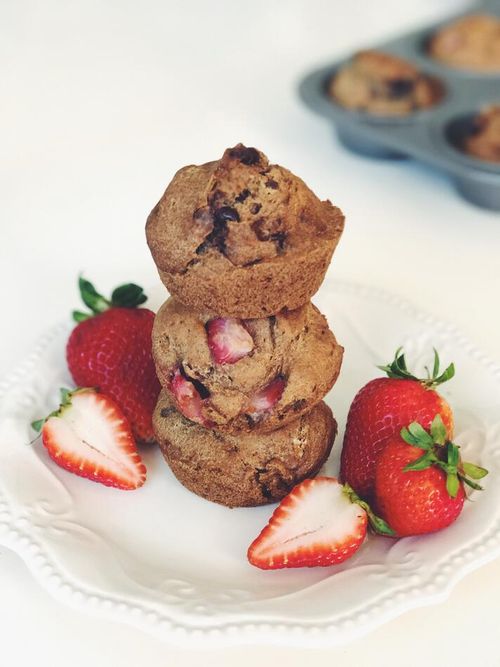 Muffins are our go-to grab-n-go breakfast fav, as they're whole-fam approved, easy to bake, and you can sneak healthy things into them ;) These strawberry, blackberry, and chocolate chip muffins are gluten-free, dairy-free, and vegan optional. Enjoy!
Makes 6 muffins. Double ingredients to make 12.
Ingredients
4 tablespoons ground chia + flax seed, combined
About 4 strawberries, washed and sliced into small cubes
About 10 blackberries, washed sliced into small cubes
About 1 tablespoon Enjoy Life chocolate chips
1/8 - 1/4 teaspoon ground cinnamon
1/2 teaspoon pure vanilla extract
3 tablespoons Chosen Foods avocado oil
1 egg or vegan option; 1 flax egg or 1/4 cup unsweetened applesauce
2 cups gluten free flour
1 cup coconut sugar
1/8 teaspoon baking soda
1/8 teaspoon baking powder
About 4 tablespoons cup almond milk. If batter is too thick, add more milk.
Consistency should be like pancake batter and a little on the thick side
Optional: add about 2 cups of pureed spinach to batter to sneak in veggies, fiber, and iron
Directions
Preheat oven to 350 degrees F, or get ready to use your toaster oven
Add all dry ingredients into large mixing bowl and blend
Add wet ingredients into another bowl and blend (leaving toppings out)
Add all ingredients together and mix
Spray muffin tin with Chosen Foods coconut or avocado oil, or line with muffin liners
Evenly distribute batter into muffin tin, leaving room for fruit/toppings
Add strawberries, blackberries, and/or chocolate chips, however you want to disperse
Mix toppings into batter
Bake at 350 degrees F for about 20-25 minutes, or until middle is cooked all the way through
Let cool and enjoy! These are best when still warm!
You can freeze extras, or store in the refrigerator, then pop in the microwave to warm later.
Recipe by Shelley of Seashells and Sit Ups