MOMPRENEUR SPOTLIGHT: MEET GINA SORBY; THE OWNER OF FIT4MOM Quad Cities
Gina Sorby + Alysia Page
We have another boss mom coming at you! Get to know our amazing mompreneur Gina Sorby, owner of FIT4MOM Quad Cities!
1. What inspired you to embark on the journey of owning a FIT4MOM franchise?
I became a client of FIT4MOM in May 2018 and started instructing the next year after that! FIT4MOM has been a constant bright light for me in my journey through motherhood.
I felt so honored when I was given the opportunity to purchase the FIT4MOM Quad Cities in 2020. It meant a lot to me that I could continue to serve and grow the village that the previous owner established. I wanted to continue to provide a community for moms and kids in our area!
2. How long have you owned your franchise?
I have owned FIT4MOM Quad Cities for just over 1 year.
3. What appealed to you about the opportunity of opening a FIT4MOM franchise?
Knowing that I could make a difference for so many mamas and be able to take care of my family at the same time appealed to me most. My family always comes first, and FIT4MOM gives me the opportunity to work around my kids' schedules. I love that my kids get to be a part of this with me!
4. How has motherhood helped you become a mompreneur?
Motherhood has helped me be a patient leader and to live in the present moment. I've learned to smile, stop worrying, and fully appreciate today's moments.
I also love that I get to set a positive example for my kids! I keep showing up for myself and they know how important this community is to me.
5. What did you do before becoming a FIT4MOM franchise owner?
I was a stay-at-home mom prior to owning FIT4MOM Quad Cities and I also taught Stroller Strides.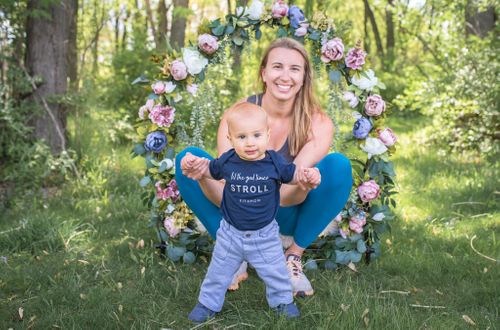 6. How has being a FIT4MOM franchise owner helped you achieve your life or career goals?
FIT4MOM has given my life a sense of purpose and direction. It has empowered me to achieve things that I never thought were possible while being a mom.
7. How do your own values align with FIT4MOM?
I believe there is strength and community in motherhood. I've learned in my own journey through motherhood that it truly takes a village! I feel so blessed that I get to lead my village with love, inclusivity, and positivity!
8. What classes do you offer?
We offer Stroller Strides, Stroller Barre, Strides 360, Body Well & Body Boost. And we offer Run Club+ seasonally.
9. Where do you hold your classes? How can people sign up to take a class?
We hold outdoor classes at Veterans Memorial Park & Middle Park in Bettendorf, Iowa. However, we will be transitioning to our indoor class schedule soon with various locations throughout Davenport & Bettendorf. You can sign up for all our FIT4MOM classes at Quadcities.Fit4Mom.com. Your first class is always free!
10. Who are you a mom to?
I am mom to Braxton (6.5), Brooke (5), and Lincoln (16 months).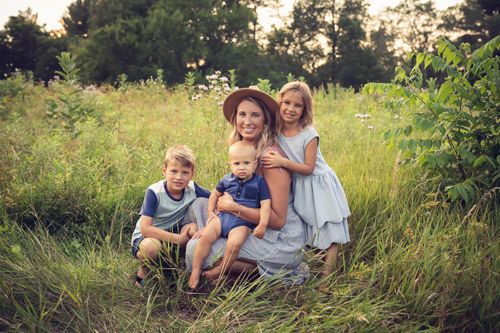 11. What advice do you have for other mamas who want to be a mompreneur?
You will never feel completely ready to start. Just do it! It's hard work, but it's so worth it!