We see you, Mama, sitting in the NICU pumping for your baby, or watching them bottle feed formula because, with a premie, your milk didn't come in. We see you, Mama, waking up every hour to breastfeed your baby who was just diagnosed with tongue and lip tie. We see you, Mama, who's up all night warming bottles and mixing formula because you have painful mastitis, blistering and cracked nipples, or decided breastfeeding just isn't for you. We see you, Mama, pumping all day at work, sneaking away to bathrooms and hall closets or your car when there is no nursing room. We see you, Mama, timid to breastfeed in public for the first time, or whose baby is wrestling under a cover like a wild animal in a cage. We see you, Mama, who had to turn around to head home because you forgot your bottles on your first outing out of the house with a newborn. We see you, Mama, hiding in an airport bathroom trying to breastfeed in peace. We see you, Mama, building that liquid gold stash in your freezer for date nights or when you go back to work.
We see you, Mama, taking care of your baby in all the ways that feel right. We see you, Mama, nurturing and feeding your baby with love. We see you, Mama, whether you're exclusively breastfeeding, exclusively pumping, formula feeding, using a milk donor, or supplementing with a combination of the above. We see you, we adore you, we cherish you, and we honor you and your story of motherhood.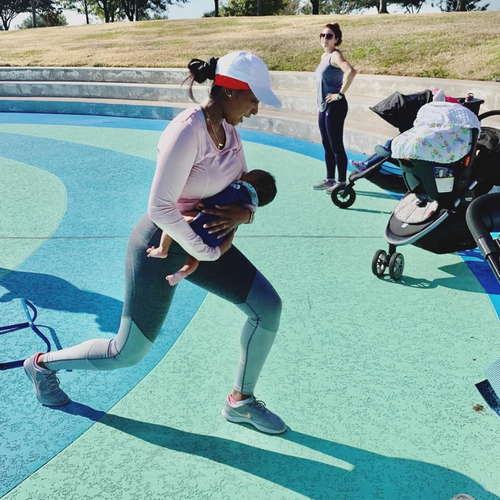 Surely you've heard the saying "breast is best", whether in a mom's group, from an older relative, or even from your doctor… but the reality is that FED is best and at FIT4MOM we believe that SUPPORT is best. Support for all stages of motherhood and especially for new mamas trying to navigate an entirely new identity and set of rules, parameters, and expectations. The American Association for Pediatrics (AAP) recently updated their guidelines to recommend that mothers exclusively breastfeed for the first six months, with complementary foods introduced around six months. Under the new policy, the AAP also now supports continued breastfeeding until two years or beyond, as mutually desired by mother and child.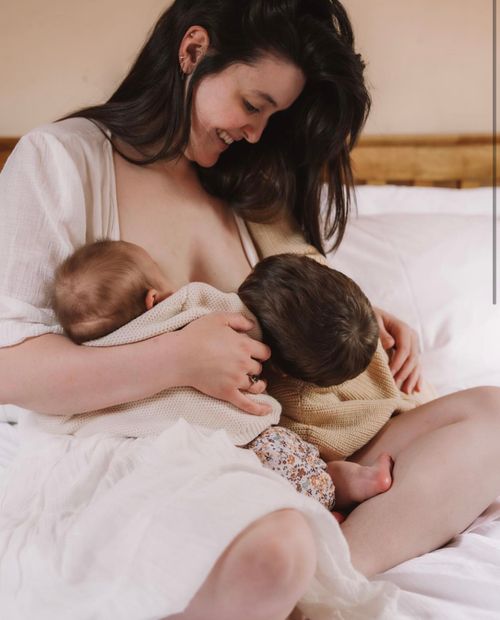 image credit: : @hannah.and.chester
But… is that realistic? Let's take a look at the stats:
Three out of four mothers (75%) in the U.S. start out breastfeeding, according to the Centers for Disease Control and Prevention's 2010 Breastfeeding Report Card. (1)

At the end of six months, breastfeeding rates fall to 43%, and only 13% of babies are exclusively breastfed. (1)

Among African-American babies, the rates are significantly lower, 58% start out breastfeeding, and 28% breastfeed at six months, with 8% exclusively breastfed at six months. (1) According to @bmbfa, due to financial circumstances and lack of lactation support, African American mothers are more likely to rely on formula for their newborns.

The prevalence of any breastfeeding at 3 and 6 months and fully breastfeeding at 1, 3, and 6 months was significantly lower among mothers who gave birth during the pandemic compared with mothers who gave birth before the pandemic. (2)

Breastfeeding is associated with reduced risk for various infections, necrotizing enterocolitis, sudden infant death syndrome, type 1 diabetes, and obesity among infants, and with reduced risk for high blood pressure, type 2 diabetes, ovarian cancer, and breast cancer among mothers. Because Black and AI/AN populations are at increased risk for many of these health outcomes, lower rates of breastfeeding initiation among these groups are particularly concerning. (3)
So, as mamas, what does this mean?
For starters, it means that #BreastIsBest isn't as simple as it sounds. It also means that there is a lot of room for improvement in terms of how much education women and mothers receive when it comes to how to feed their babies.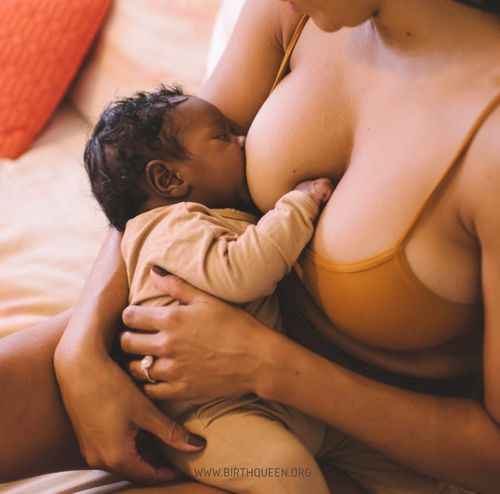 image credit: @rachelenicks of @birthqueenorg
Whether you are pro-EBF or pro-formula feeding, we hope you can see (and emotionally feel) both sides...
Formula can be harder for baby to digest vs. formula can save lives for moms who cannot breastfeed

Life can be easier for you when you breastfeed because there's no bottle clean up vs. formula feeding is easier because you don't get publicly shamed for having boobs out

Breastfeeding is free while formula costs money vs. formula is worth the cost because your mental and physical well-being is priceless

Breastfeeding keeps mother and baby close due to physical contact vs. no one can take away the bond my baby and I have, whether I bottle feed or breastfeed
...one thing we can all agree on is that feeding our babies with love, care, and milk or formula that gives them vitamins and minerals to grow, thrive, be strong, and be well is the most important thing.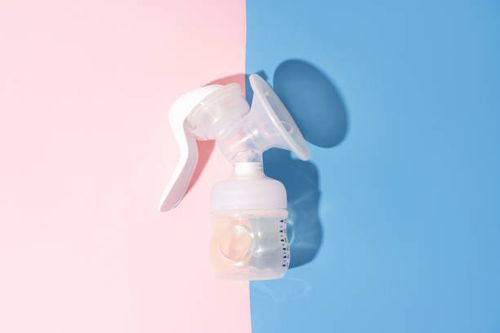 If you're a new mama, please reach out for help. The amount of change and the amount of decisions to make for a little person who's now your everything is overwhelming, especially when it comes to bottle feeding and formula versus breastfeeding. There are struggles. There are obstacles. There are real-life situations and experiences that define how and what you feed your baby; that's why we wanted to remind you that you're doing a great job. Asking for help doesn't make you weak or any less of a mother. Don't be afraid to reach out for help and support.
Two resources we recommend:
Birthqueen.org - provides Black mothers with education & support & train & implement black birth workers into the field to tackle the Black maternal health crisis.
The Better Boob - an RN, BNS, and IBCLC who believes in educating, informing, and supporting mothers in however they chose to feed their baby.