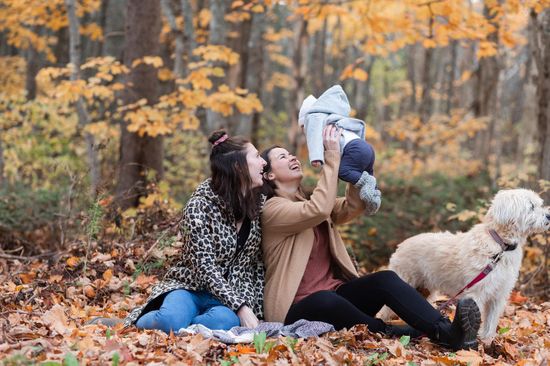 The Modern Mama's Fall Bucket List
Jess Kilbane
adorable cover photo credit: Chloe Miller of The Little Island Yogi
It's official: summer has come and gone and fall is upon us. Can you smell it, mama? Can you feel it?
We're ready to pack up the pool floats, break out all the cozy sweaters, and dive right into the autumn goodness! While we aren't against sipping pumpkin spice lattes and taking pumpkin patch pictures, we hope this list sparks your creativity and forces you to slow down a bit and savor this beautiful season with your fam.
Decorate your front porch or entryway
One activity that never gets old? A good old-fashioned walk around the block! We love walking or biking the neighborhood in the evenings and admiring our neighbors' spooky, creepy, and beautiful decor! Whether you go Fall or Halloween-themed, your kids are sure to enjoy helping you create the perfect festive entry!
Take a nature color walk
Head to a local trail or even hit the sidewalks of your neighborhood and see how many different colors you can find. A bright red bird? A deep orange leaf? How many acorns can you collect? Bonus idea: grab the book Leaf Man from amazon or your local library and have fun creating your own leaf "people"!
Roast pumpkin seeds or nuts
Roasted pumpkin seeds with a sprinkle of sea salt are a great source of fiber, protein and antioxidants, making them a perfect addition to a healthy, balanced diet! Pumpkin seeds aren't your thing? Roast walnuts, pecans, almonds, or cashews in a sweet or spicy blend! Try these sweet and spicy nuts from Cookie and Kate or these fall spiced nuts from Take Two Tapas.
Decorate pumpkins in a fun, new way
Does your family always carve pumpkins? Maybe this year you try painting them! Or buying some spooky accessories? There are so many options these days (and if you are stumped, a good old fashioned google search always helps). Keep the tradition-- but make it new and fresh! Mama tip: painted pumpkins last longer than carved ones and can provide art + craft opportunities to keep the kids busy all month long!
Have a spooky movie marathon
It's all just a bunch of hocus pocus, if you know what we mean! Pull the curtains closed, bust out the snacks, and curl up on the couch for a holiday movie marathon-- fresh roasted fall nuts, optional! We love Super Monsters Save Halloween (Netflix), Gnome Alone (Netflix), The Addams Family (Hulu), Coco (Disney+), and Toy Story of Terror (Disney+). For older kids, bust out some of the classics, like Hocus Pocus and Halloweentown (both available on Disney+).
Attend a Fall Festival
Carnival rides, corn mazes, and hay rides are some of the best fall memories to make. Look up a local fall festival and spend an evening or afternoon celebrating the crisp, cool changing of seasons. If you're really lucky, you live somewhere where you can take in the beautiful changing of the leaves!
Make a pumpkin recipe
Is it really fall if you haven't made *something* pumpkin-flavored?! Whether you use actual pumpkin or pumpkin pie spice, incorporating this fall staple-flavor always makes things feel homey and cozy. Family faves include this baked pumpkin oatmeal and these maple pumpkin muffins.
"Boo" your neighbor
Have you ever been "boo'd" by a friend or neighbor? This fun tradition involves creating a little holiday-themed gift basket for the recipient. Fill it with as much (or as little) as you'd like: treats, fun accessories, a favorite fall drink, etc. and a note explaining that they've been BOO'd and how they can BOO someone else! You can find free printables online (check out pinterest or this article from alphamom.com) and even at Target these days, so feel free to make it your own.
Make a "thankful list" with the fam
Fall is the perfect time to celebrate all that we have and that we are thankful for. Make it a family tradition to make a list, fill a jar, or simply write down in a notebook all the things each person is thankful for that year. We love to create a thankful turkey with littles, or for older family members, write down what they are thankful for on colorful strips of paper, store in a clear mason jar, and read a few each night at dinner.
Make a crock-pot recipe
Now that the weather is turning cooler, it's the perfect time to throw your favorite chicken tacos, chili, or pulled pork in the crock pot for a hearty and easy dinner. The best part? There are (almost) always leftovers! Scroll down for a delicious slow cooker beef stew recipe from our Fall Body Well Client Guide.
Slow Cooker | Beef Stew
Makes 4 servings
Serving size: 2 cups
INGREDIENTS
1 lb beef stew meat, cubed

1 cup uncooked couscous

2 cups carrots, sliced

1 cup celery, diced

1/2 cup onions, diced

1 cup mushrooms, diced

1 cup potato of choice

28oz can crushed tomatoes

4 cups broth of your choice

1 cup water

2 tsp parsley

2 garlic cloves, diced

1 tsp paprika

Salt & pepper, to taste
DIRECTIONS
Add all ingredients to slow cooker.

Cook on low for 8 hours.

Cook on high for the last 30 minutes before eating.

Serve and enjoy!
BONUS: Holiday shop early at local businesses and those owned by BIPOC
By getting a head start on holiday shopping, you can avoid ordering from big box stores and chains and support local and small businesses! Not saying we don't love a good target run, but there's something extra special about picking out the *perfect* unique gift and being able to support someone's dream! Here's a great place to start, but stay tuned as we share more this month.