Meet FIT4MOM's 300th Franchisee!
Shelley Hopper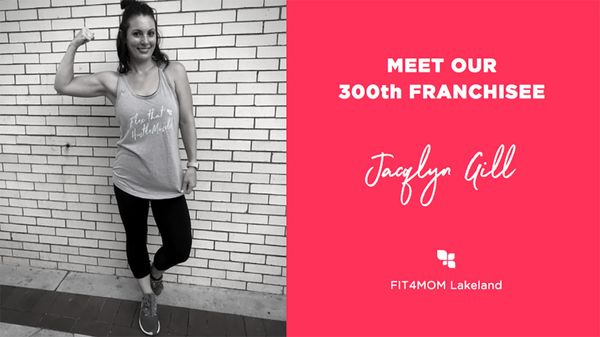 FIT4MOM was founded upon the notion that mothers desperately need community, TLC, support, and a warm and welcoming pre and postnatal fitness environment. When our founding mama, Lisa Druxman, was a new mama, she needed all of these things for herself; and it has been her mission to bring this to moms, everywhere, ever since. This month, we celebrate our 300th franchisee!
"Beyond the classes, my vision has been to create amazing career opportunities where women can integrate work and motherhood. That's why I am so very excited to see us reach our 300th franchise. Since 2001, I have found amazing inspiration, support, and strength when we come together in motherhood," says Lisa Druxman, founding mama at FIT4MOM.
We sat down with our 300th franchisee, Jacqlyn Gill, of FIT4MOM Lakeland, and asked her a few questions about motherhood and what it's like to be an entrepreneur and new member of the FIT4MOM franchise fam. Here's what she had to say...
Q: Who are you a mama to?
A: My daughter Reagan, she'll be two in December!
Q: What are the top 3 things you wish you could go back and tell your pregnant self? And your postpartum self? (3 things for each season of mamahood)
A: This is a good one! Three things to tell my pregnant self: Do the maternity photos! I regret not having any. Don't get too caught up in the scale. Keep a journal or diary throughout your pregnancy....to remember all the feelings (good and bad) and to remember and share with your little one someday.
Three things to tell my postpartum self: Trust the process. Sleep when the baby sleeps! Ask for (more) help.
Q: What do you wish all postpartum moms could know?
A: Don't be too hard on yourself. Give yourself grace in all forms. You're doing your best and that is the most important thing. Don't forget to make time for yourself.
Q: What did you do before becoming a FIT4MOM franchise owner?
A: Before becoming a franchise owner, I was a full time stay-at-home mom. Before that I was a student of dietetics and nutrition; I have about halfway to go and someday will most likely finish...way in the future. My background is in event management and I worked in fitness and running events.
Q: What inspired you to change paths and own a FIT4MOM franchise instead of your prior career/life path?
A: When I worked my event management job for a specialty running company, I realized how much I love helping people and watching them achieve their goals. I decided to leave that job and go back to school to become a dietitian. I knew my passion for health and fitness really drove me to want a career helping people in some way. When I had my daughter, I took a step back from school and focused on being a full time mama. I still wanted an outlet to connect with others and help people and then I found FIT4MOM. The closest franchise is a bit too far to attend regular classes, but I went to their special events and loved connecting with the other women. I knew that FIT4MOM would be a good fit for me and would allow me to connect with other women, help them reach their goals, and create a community of strong mamas!
Q: Who/what inspired you to open a FIT4MOM in your area?
A: I've always admired my neighboring locations for having such a great group of women who have made a wonderful community. I saw the potential for my area to have the same! There's nothing like FIT4MOM in Lakeland (yet!) and I think our community will totally accept and appreciate what FIT4MOM has to offer. I was inspired to fill the need in my community and bring something special and important to the women who live here.
Q: How did you decide FIT4MOM was the right franchise for you?
A: I believe in the company, I believe in my franchise neighbors, and I believe my community needs something like this. I just went for it!
Q: When does FIT4MOM Lakeland officially open?
Q: How do you feel a company like FIT4MOM empowers women?
A: Not only does FIT4MOM empower women to be the best version of themselves, they empower women to empower (other) women! They encourage us to become business owners, their own bosses, and be a part of something way bigger than just fitness. I love that I can teach my daughter how to be a business owner and a strong and healthy mom. I have the position to connect to other amazing moms and create this network of people who can inspire, empower, and build each other up.
Q: Have you found support from other FIT4MOM franchise owners? How?
A: I have found the BEST support from my fellow franchise owners. Besides an incredibly warm welcome from my neighboring franchises, they have offered me guidance, tips, and so much support. It feels so good to be part of a company whose franchise owners are just as excited about opening a new location as I am. I'm so new at this and these women have gone out of their way to help me.
Q: How has being a FIT4MOM franchise owner helped you have a career that is balanced with motherhood?
A: I'm still pretty new at this, but being a part of a company that values work/life balance is extremely important to me. I'm still a stay at home mom, so having the opportunity to work when I can (hello nap time!) and still accomplish my goals is so vital! I love that Reagan will come to classes with me and playdates so she gets to have the full FIT4MOM experience too. Once I get up and running, I'll work on being a bit more present and not working when I'm with my daughter, but for now we're making it work!
Q: How did you know you had what it took to run a franchise business?
A: I think, like having kids, you never really know when you're ready, but you know you have the passion for it, so when it happens you go for it! I jumped in to this opportunity and I am so grateful I decided to take this leap. I can't wait to build something for my community.
Q: What kind of support and training did you receive from the FIT4MOM Home Office to start and grow your business?
A: Lots of support! I was welcomed so warmly by everyone at the home office..including a phone call from Lisa, which was super cool! I have had different calls and video chats with team members who are helping me get setup. The onboarding course pretty much give all the details you could need, which is so helpful. I'm in a new franchise group on Workplace (FIT4MOM's internal social media network), so I'm able to connect with the others that are going through the same things as me.
Q: How has being a FIT4MOM franchise owner helped you achieve your life goals?
A: I feel like I have finally found my calling. I'm doing something I'm incredibly passionate about.
Q: How do your own values align with FIT4MOM?
A: I certainly value a healthy lifestyle. I value being able to 'do it all': work and be a mom. Becoming a FIT4MOM franchise owner allows me to do both.
A: How has your local chapter become a community of moms?
Q: We haven't officially opened yet, but the engagement I've gotten just through our Facebook page alone has been incredible! It's evident that moms need this! I've already gotten so many messages from fellow moms who are looking for their tribe and are so excited that I'm bringing FIT4MOM to Lakeland!
Q: How long have you owned your franchise? We know you're new to our community, and are so glad you're here!
A: I have owned FIT4MOM Lakeland since August 21, 2018!
Q: Where do you hold your classes? How can people sign up to take a class?
A: Our Grand Opening is October 10th! We've partnered with a local business, The Juice Box, to host our workouts. People can signup once I get our website up and running, but connect with us here on Facebook in the meantime!