How I Became a Mompreneur
Lisa Druxman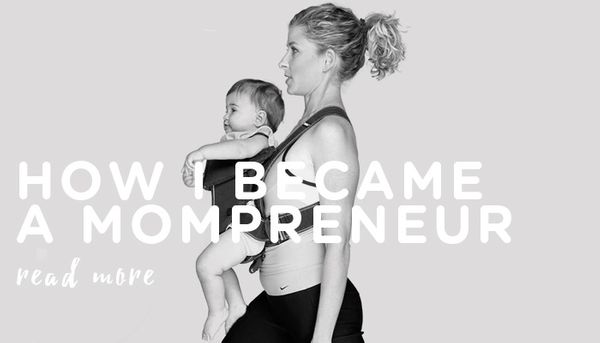 I didn't set out to be a mompreneur.
I didn't even set out to start a business.
I just needed a village.
I had so many questions about being a mom. So many questions about nursing, sleeping, figuring out what I was going to do when I went back to work. Well that was the plan: to go back to work.
Stroller Strides was an idea that happened during my maternity leave. At the time, I was a general manager at a large luxury health club. I had been in the fitness industry as a trainer, group exercise instructor and then manager for over a decade. I knew nothing about being a mom. The only thing I felt I did know was how to get back in shape and take care of your body. That was where I could help. And that's how a business is born.
When you have a solution and when you can fill a need. Stroller Strides did both. It's a community and village for moms and it helps moms nourish and strengthen their bodies.
So, I became a mompreneur.
That also solved the problem of what to do with my baby when I went back to work. Now, he could be part of my work. I taught classes here in San Diego and Jacob came everywhere with me.
I remember my first instructor meeting. I nursed while I led the meeting. That was (and is) the beauty of the business. I created a career that was work blended with life, instead of work versus life. Now realize, I had to replace a six-figure income. So I was a mom on a mission. I started 12 locations here in San Diego that first year. I hired instructors and taught a ton. Life was good! I wasn't looking for more.
But then we started getting requests from all around the country. Women who wanted to join classes. Women who wanted to start classes. And realize that this is before Facebook and social media.
When moms like something, they talk. And talk they did. They talked about the incredible results they got from Stroller Strides. They talked about the best friends they made at class. They talked about the village that they were a part of.
I felt so very blessed to have this incredible energizing business that was so supportive of my family life. I just had to find a way to share it. And so I did. I had a model that was very repeatable. I could share my operations manuals, instructor trainings, templates and more. I realized that I could make this business so much more affordable to start by replicating what I had versus someone trying to do it on their own like I had to.
Long story short, we franchised the business. That truly does condense a lot of the story as there was much in between. I was told by so many consultants that my idea for a franchise wouldn't work. "You can't charge so little for your franchise." "You can't have a business run by a bunch of moms."
Yes, I could and I have. In fact, I've been determined to blaze a new trail in business. I believe we are succeeding because we are moms, not despite of it.
As the years went on, we added more programs such as Fit4Baby, Body Back, Stroller Barre and our own Run Club. We realized we weren't just Stroller Strides. We were FIT4MOM.
We are all about helping mamas at every stage of motherhood live a healthy, strong and happy life.
It's been 15 years since we started. And I can honestly say that I am as excited today as ever. There is so much that I love about the business. I love the incredible impact our programs have on moms. I love that we create thousands of instructor and franchise opportunities around the country.
I love that our franchisees get to own a business that gives back to their community and allows them to stay at home with their kids. Our franchisees are accountants, attorneys, artists and teachers. We have even had a CSI investigator and a rocket scientist. For most of these women, they realized that their career no longer suited the lifestyle that they wanted to live. I love that our business has given them an exciting opportunity to make a living and make a life. By owning a franchise, our franchisees don't have to reinvent the wheel. They get their website, email campaigns, training programs and more. They have all of the tools they need to offer all of our programs.
I've learned a lot over the last 15 years. Much of it has nothing to do with the business and everything to do with balancing life with work. That is what we share with our franchisees as well. We want them to succeed in business, motherhood and life. And it's surely a lot more fun to do when you have an incredible village supporting you!