Community and Motherhood
Shelley Hopper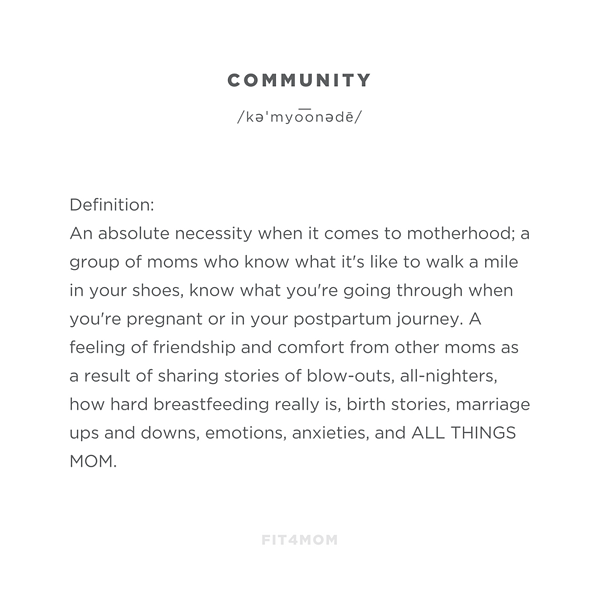 When it comes to motherhood, it's impossible to get through the days and the years without a strong community. Entering into mamahood as a new mother can be extremely isolating, confusing, and overwhelming; it's uncharted waters with no how-to handbook (besides your own mom or other strong, influential, supportive parental figure in your life)...
It boils down to a whole lot of trusting your gut, your intuition, and your mama bear instincts, as well as surrounding yourself with other women in the same stage of life as you - motherhood.
As a mom, it's imperative you surround yourself with family, friends, and/or a mama tribe who are there for you through life's ups and downs. We celebrate our village and community everyday at FIT4MOM because moms NEED EACH OTHER. As the saying goes, it truly does take a village to raise children, and it takes a village for mom to feel supported and thrive, too.
As a mom myself, I've experienced first-hand that surrounding myself with other mamas has helped me feel less isolated and alone; having each other to talk to about the changes we've all been going through since pregnancy and birth - emotionally and physically - has been crucial to finding support for our emotional and physical well-being, mental health, and more.
The World Health Organization states about 13% of women experience a mental disorder, primarily postnatal depression; in developing countries, the percentage stands higher at 19.8% (Check Pregnancy, 2018).
If it wasn't for my mom group and little friend tribe, I wouldn't have known postpartum anxiety was even a "thing," let alone a true disorder. If it wasn't for the research I do diving into postpartum health and wellness for work and social media networking, I would have never heard of postpartum psychosis, or realized the actual stats of postpartum disorders, in general. And most of all, I would have felt as if I was sailing away off on a deserted postpartum island where I felt unsupported, even more overwhelmed, and alone (especially being a single mom.)
"Having the support of a community unlocks numerous skills and resources to make your life easier as you navigate the hurdles of parenthood. That, in turn, relieves some of your stress and allows you to look at your duty with more optimism and a sense of connectedness with others that gives your effort even more purpose," says Tyler Tervooren of Riskology (2018).
We created each of our FIT4MOM programs with Mom in mind, and strive upon the fact that although we are a fitness program, we are so much more; we are a mamahood sisterhood, a group of women going through the same stages of life at the same time, women turned mothers who need support, love, guidance, comfort, TLC from one another, as well as someone else to ask/say "Is ____ normal?! Does your baby do that too?!"
"New mothers give up autonomy, sleep and relationships to tend to the relentless needs of a baby. On top of that, they are also expected to be in a constant state of bliss and fulfillment with their new role" (Esther Hsieh via Scientific American, 2015).
More than 40% of postpartum depression cases go undiagnosed and the women do not get appropriate help (Check Pregnancy, 2018), so if you are experiencing any signs or symptoms of a postpartum disorder, please talk to your doctor and psychologist and ask for help. In fact, as few as 15% of moms experiencing a postpartum mood disorder actually report it....
Reach out to a trusted friend, family member, doctor, or fellow mama to vent and let your guard down; it's okay to not be okay as long as you let in support, love, and guidance.
You are not alone and it doesn't make you a "failure" or "different" - in fact, it makes you very, very "common" and "normal." And it will make you a fighter and one heck of a strong mama along the way of seeking treatment, in whatever way that means and feels right to you...
What's one of the number one things recommended by doctors and psychologists to aid in postpartum depression support and treatment? Finding a community, team of professionals, and other mamas to talk to, relate to, and open up to.
Here are 7 ways to cope with postpartum depression via Healthline (but these are also important tips and tools to practice and keep in mind even if you don't have PPD; they can help get you out of postpartum blues, as well).
1. Create time for yourself
2. Exercise when you can
3. Make time to rest
4. Maintain a healthy diet
5. Focus on fish oils
6. Examine your breastfeeding
7. Resist isolation
"You may find comfort in confiding in a close friend or family member. If you don't want to share your feelings with people you know, there are other places you can reach out to for support," (Healthline, 2018) such as groups, professionals, church, or support resources. Healthline also recommends you can:
Call your obstetrician, midwife, or another healthcare provider
Contact your minister or another leader in your faith community
Ask around about any local support groups for PPD
Chat online with other moms in forums like Postpartum Progress
Call the anonymous PSI postpartum depression hotline at 800-944-4773
Don't go through motherhood alone.
I once saw a fellow blogger, Leisa, of My Southern Health, state her friend Anne said, "You don't realize how good it feels to have mother-to-mother support and what you've been missing, until you find it."
We know there are various resources to find support and community through motherhood, whether it be through one of our programs, via Meetup, a local hospital referral or recommendation, lactation group, etc.....however you search for it, we hope you find it. And we know you will.
We're here for you at FIT4MOM.
In what ways did you find support during pregnancy and postpartum?
You've got this, Mama.