Best Mommy Hacks
Lisa Druxman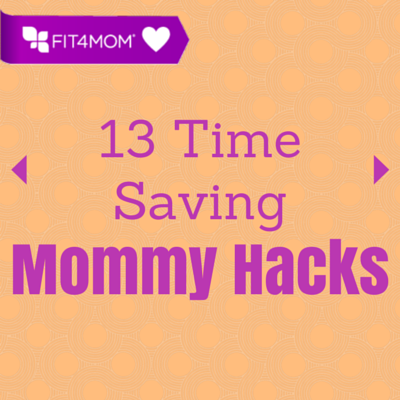 I am obsessed with productivity hacks. It's almost like a hobby. Do you remember reading the original book (or movie) Cheaper By The Dozen? The father's job was a time efficiency expert. He would try to figure out the most efficient way to get everyone out of the house. He would even time it. That would probably be me.
But before you call me crazy (it's ok, you can call me crazy), realize how precious that time is. If I can save you 10 minutes a day, I am giving you 60 hours extra in a year to do whatever you want. So, I thought I would share 13 mommy hacks to help you find some extra time. These tips are specific to motherhood. I'll share my top 10 hacks for working moms on Wednesday!
1. Make a daily list for your kids. Before my kids could read, I had a checklist with pictures so they knew what they needed to have done before school or to get ready for a sport. Examples include shoes on, backpack, homework, lunch. Laminate it and they can check it off each day.
2. Shopping with kids is brutal! Consider an auto ship program. Take advantage of services like Amazon Prime or other shipping companies to ship what you use most. If you can eliminate going to the grocery once a week, you will save far more than ten minutes a day!
3. Wash and cut all of your produce one time per week. Use a product like Eat Cleaner and it will last longer. Not only will you eat healthier; you will also save time by not needing to get the colander, cutting board, etc out multiple times during the week.
4. Have handy baskets around the house for items that you are regularly looking for. If you are a new mom, I'm talking about wipes and diapers. Maybe pens, reading glasses.
5. Take One, Give One. If your child gets a new toy or article of clothing, have him pick one to give away to someone in need. Not only does it teach them the gift of giving, it helps you from living in an over cluttered home.
6. Get your exercise in when your kids are at lessons or sports. I get that you want to watch your kids. But I see more moms on Facebook the whole time. At least get a little time in for you!
7. Have kids ready 10 minutes earlier than they need to be. No tv, video games or dawdling until they are 100% ready to go. Teaching them to be ready before it's time to go is a great life skill so they aren't always running late.
8. Buy your kids the same type of socks in bulk. That way they never have to work to find a match because they all match!
9. Buy your kids their own color of towel. Then it's very obvious who left theirs on the floor. You will always know who is responsible!
10. Put lunch foods in separate bins to make it easy for your kids to pack their own lunches. For instance, bars in one bin, fruit snacks in another, chips / pretzels in another. Let your kids know how many to pick from each bin. They can start packing their lunches earlier than you think!
11. Have a shared digital calendar with your spouse (and even your kids when they are old enough). All sports, play dates, birthday parties, etc. are on there. That way both parents know what's coming up, how to get there and when you're free.
12. Double up. At least once a week, double batch something you are making for dinner so you can build up you arsenal of frozen meals for busy nights.
13. Say No! Every mom I meet seems over booked. Say no more than you say yes. Protect some time so you and your kids can have some down time.