5 Questions to Ask Yourself Before Starting Your Own Business
Lisa Druxman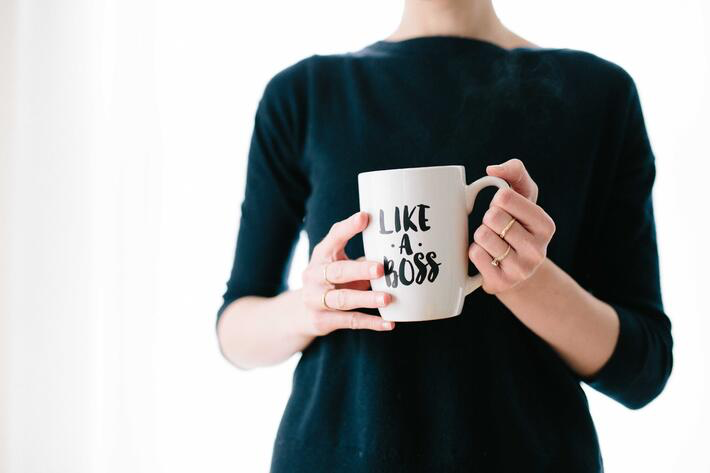 Photo by Brooke Lark via Unsplash
Hey, Mama! Do you daydream of starting your own business and find yourself with your head in the clouds at your corporate office job? You're not alone. Currently, women are starting businesses at twice the rate of men, and up to 1 in 3 of those businesses are owned by moms! That could be you! And why not?! You already know how to be the boss babe within your household!
70% of moms with kids 18 and under are in the labor force. Many are unhappy with the flexibility of their work and how it fits in their life as a mom and alongside motherhood. So, for modern mamas, entrepreneurship is growing more than ever as part of their way of life.
When I started Stroller Strides, which has now evolved to FIT4MOM, I was a young mom with a background in fitness and corporate management; I wanted to be able to be my own boss while raising my babies. When I first brought Stroller Strides from a dream to real life, it happened so fast that I didn't really get to create a proper business plan or figure out the best launch strategy - it seemed to take-off overnight (which was a blessing, of course, but also had some downsides and its own set of struggles). But, more than anything, it was a moment where my passion and purpose came together and if there's one thing that motherhood teaches you, it's to go with the flow and deal with constant curveballs. Luckily, those attributes apply to both personal and business life.
Looking back, I would definitely devote more time to pondering and outlining a plan, and ask myself these 5 questions before getting started:
1. What is your "why"?
If your why is to be home with your kids but your business idea will require you to be away, then you have a misalignment. If your desire is to make a million dollars but your business idea has you spending most of your hours with your kids then that is a misalignment. You need to make sure your why is in alignment with the business. Understand your reasons behind why you want to start your business. You need to be super passionate about your why. It will fuel you if you love what you do.
2. Do you have a solution to a problem?
How can your business idea help people? Is it something that the world needs? Or if not the world, the population that you want to reach? Are you solving for a challenge that others are not?
3. Who are your customers?
Are you clear on your target customer? Do you know her? Would she buy your product or service? How big is the market? Do you know how to reach them?
4. What makes you unique?
You do not have to be the only one who offers your product or service. There are plenty of car companies, pizza restaurants, banks and so forth who do well despite a noisy marketplace. You do, however, have to figure out your unique differentiator compared to your competition.
5. Are you 100% committed to success?
Starting a business is scary, no doubt. And you will run into obstacles. Lots of them. Figure out now if you have the passion and determination to stick with it even when things get tough. You have to have the attitude that you can conquer any obstacle that gets in your way.
I love being a business owner and entrepreneur, but I do know the self-hustle is not for everyone. It can be very lonely and it definitely has huge risks, financially and personally. And, as a mom, we always face the constant struggle of "balance" (such a dirty little word, isn't it?!) and trying to make everything mesh together as we juggle it all - being a teacher, tutor, chauffeur, chef, housekeeper, coach, cheerleader, leader, listener...the list goes on and on as a parent. So, as a mompreneur, it's important to remember there are options between being "just" an employee and business owner. If founding a company seems too overwhelming, there are also multi-level marketing businesses and franchise options, where a business model is already laid out for you to follow. As the founder of FIT4MOM, obviously I'm personally a fan of franchising, as you buy into a proven business model and have support, tools and systems already in place to help you along the journey of business ownership, AND you're part of a village.
No matter what calls to you as you dream of starting your own business, choose something you are passionate about. You can't go wrong when your work fulfills you and you do what you love. Most recently, I finally took time for me - to unplug and reconnect with myself as a mother outside of being a business owner, and I wrote The Empowered Mama. As I sat down to reflect on my life as a mom and an entrepreneur, I wanted to create a book to help moms reconnect with themselves on the journey through motherhood - not just to rediscover themselves but to fall in love with motherhood (and life!) again. Although The Empowered Mama isn't a business book, it is about helping you align your values and your vision and a roadmap to help you reflect on the life you want to live; which is the first step in creating a business, after all.
Whether you are a working mom or a stay-at-home mom, The Empowered Mama will help add balance to your life. Since there will never be more hours in the day, The Empowered Mama will help you maximize the hours you do have to accomplish what matters most. So, before you create your business plan, cozy up with The Empowered Mama and get inspired, connected, and know you're not alone in this journey through motherhood and entrepreneurship. Order your copy of The Empowered Mama today.