2021 HOLIDAY GIFT GUIDE
Jess Kilbane
It's the day we've been waiting for all year: the 2021 FIT4MOM Holiday Gift Guide is here! Carefully curated to include *only the best* for everyone on your nice list -- and if you snag something for yourself, we promise not to tell!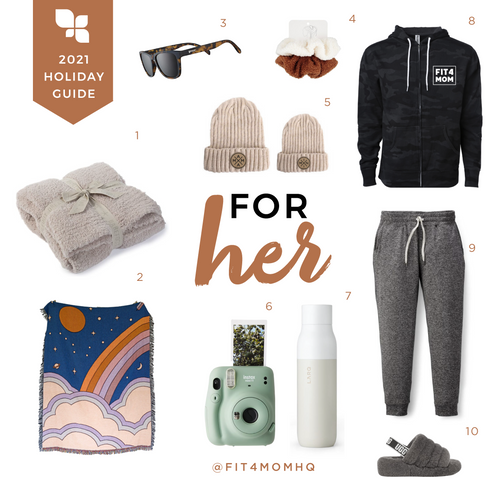 1. If you've never cuddled up with something from Barefoot Dreams, this is your sign to tap "add to cart". Imagine the softest, coziest hug from a loved one and you'll have an idea of how you'll feel when you wrap up in this CozyChic Rib Trim Throw! (this is definitely one of those "one for you, one for me" situations-- don't worry, your secret's safe with us)
2. We know that you love supporting small businesses are much as we do, which is one of the reasons you'll love this Valley Cruise Press throw blanket. Other reasons to love it include: made from 100% recycled cotton in the USA, extra soft and cozy, and looks equally beautiful tossed on the corner of your bed as it does paired with a picnic basket.
3. Whether you're running a marathon or running to Target, GOODR glasses are the answer. They don't slip down your nose, they're polarized to protect your peepers, and they come with a one year warranty. Sounds like one of the world's best stocking stuffers if you ask us!
4. You might know Kristin Ess from her luxury haircare and styling tools, but did you know she also makes the cutest hair accessories? Scoop them up on your next Target run or add them to your "please buy me" Christmas list ASAP. Think everyday ponytails, but make it fancy.
5. The coziest knit FIT4MOM beanie for you AND your little one! Available in cream or dark red to match just about anything, plus the brown leather logo patch adds just a liiiittle extra!
6. Relive your oldschool Polaroid dreams with this upgraded Fuijifilm Instax Mini instant camera! It even has a selfie mode with a built-in mirror, which is screaming "mommy and me selfies" but also "girls night out".
7. You can have clean, cold water all day everyday with the LARQ self-cleaning water bottle. Besides looking beautiful and keeping your cold drinks cold and hot drinks hot, the LARQ bottle uses UV-C LED light to eliminate up to 99.9999% of contaminants. A hydrated mama is a happy mama!
8. Our fav zip jacket, made with ultra soft cotton/polyester blend camo fleece, is perfect for layering on over a tank or long-sleeve tee on your way to Stroller Strides, or wherever the day takes you! It's a slightly oversized, unisex fit, making it as equally comfy as it is cute.
9. 15 colors of *pure perfection*-- we know that sounds dramatic, but we stand by it! Once you try the Vuori joggers and their DreamKnit fabric, you'll understand.
10. Are they slippers? Are they sandals? With the Ugg Fluff Yeah slides, there's no need to choose! Plush sheepskin keeps you just as cozy in PJs as it does with jeans, plus they're produced in a factory that supports and empowers women in the workplace.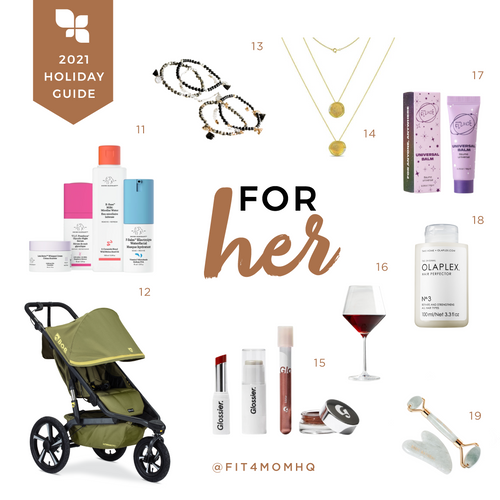 11. The Night Club set from Drunk Elephant is like your antidote to a full day of momlife + sleepless nights. Includes Micellar Water, Glycolic Night Serum, a Whipped facial cream, and an overnight Electrolyte Waterfacial. Doesn't your skin feel more refreshed just reading about it?
12. If a BOB Gear jogging stroller is a must-have, the brand new Alterrain Pro is like the holy grail! A crazy smooth ride, UPF 50+ canopy for your littles, a zip-to cargo basket, and pockets galore make this a no-brainer. Oh and did we mention you can open or collapse it with a single hand?
13. This affirmation bracelet set from Put On Love includes 3 diffuser bracelets that you can rock separately or as a set! Simply take a few drops of your favorite essential oil in your palms, roll the beads between your hands, and set your intentions for an amazing day.
14. Equal parts gorgeous and meaningful, Love Talla fingerprint jewelry is a no brainer. With a range of styles and attention to detail, a necklace from Love Talla will keep your loved one's fingerprint(s) close and allow you to support a small, mama-owned and operated business. Our faves? The Sun and Moon and the Rainbow!
15. Raise your hand if you didn't know Glossier would send you a set of four must-have products that all coordinate AND make you look like a functioning human after a long, sleepless night. Surely it's not just us that was in the dark (and with dark circles under our eyes)? This Makeup Set comes with a buildable concealer, a highlighter that will give you the perfect glow, a blendable cream eyeshadow, and a smooth matte lipstick all in colors of your choice. Consider your makeup routine done and done!
16. For the nights when you want to feel like you've got it all together, these red wine glasses will be your go-to. They've got an edgy silhouette and are break-resistant, chip-resistant, AND scratch-resistant. Cheers, mama!
17. TBH if it has multiple uses, as moms, we're sold. This Universal Balm is ultra-moisturizing, silky smooth, and can be used on lips, hands, and anywhere else that needs hydration!
18. No. 3 Hair Perfector by Olaplex is a crowd fave around here for a reason. Good for color care, volumizing, and repairing damage, this concentrated treatment is perfect for all the moms.
19. Restore energy to your skin, stimulate collagen, and boost elastin all before 8 am with your own Jade Roller and Gua Sha set! Gua Sha is actually a form of Traditional Chinese Medicine, touted for it's ability to increase lymphatic drainage and decrease inflammation. Don't worry, you'll be a pro in no time!
20. Whether you're a minimalist or simply a mama who wants to make the world a better place, 101 Ways to Go Zero Waste will give you tips, tricks, and advice for realistic lifestyle changes. According to the author Kathryn Kellogg, "It's not about perfection," she says, "it's about making better choices." We're on board!
21. The Tula Lite carrier is lightweight, made from quick-drying fabric, and perfect for at home or on the go! Use it to soothe your babe while you get work done around the house or while you're hanging with your mom friends at a FIT4MOM class!
22. A modern, portable, stemless wine glass for the modern, on-the-go mama. These GOVERRE to-go cups hold 17 ounces of your drink of choice so that you can continue momming without worry. Oh, and they're durable and dishwasher safe, so basically you need one of each color.
23. The cutest smart speaker that also reads you the news, checks the weather, sets alarms and timers, and can lock your doors for you! Helllloooo Echo Dot! We love that this powerful little speaker is basically a tiny assistant that doesn't talk back. We'll take one in each room, please!
24. The gift you can use anytime, anywhere: FIT4MOM On Demand! Whether it's one month to get you started or one year to help you reach your goals, this gift of a subscription is perfect for #allthemoms (and the non-moms!).
25. Plants... from Amazon? You know it, mama! What CAN'T you get from Amazon?! This Clean Air 3-pack of life houseplants will leave you feeling accomplished and your air feeling a little cleaner.
26. The perfect accessory to top off your cold weather looks: a felt fedora! This classic style can instantly elevate your #momstyle, taking you straight from grocery shopping to playgroup to date night.
27. A super soft, midi-cropped hoodie that isn't too short? Yes, please. Add it to your high-waisted leggings, pop the hood up and instantly be on trend. We all know there's nothing better than running to Target after a workout and in this FIT4MOM hoodie, you'll feel like a million bucks while you buy all the things in the dollar spot. #Winning
28. This ethically produced leather crossbody is the perfect size for carrying snacks or heading out for a girl's night. For your stylish friend (or for yourself), this bag is sure to get all the compliments.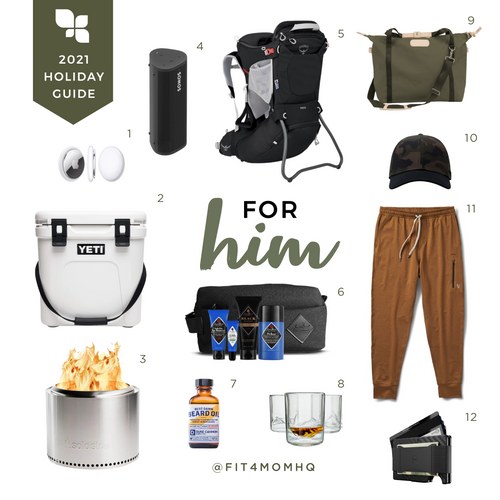 1. Attach one to his keys, another to his laptop bag, and then track it all on the Find My App! Each AirTag is customizable at purchase (with initials, emojis and more), has a battery life of at least a year, and is water resistant. Oh, and if he's the type to misplace his keys, throw in a colorful key ring or AirTag loop and become the new family hero (jk, we know you've always been the hero)!
2. The Yeti Roadie 24 Hard Cooler is like your old, reliable fave... but better. It's lighter, holds more, and keeps contents colder than comparable models. Over 3,000 reviews can't be wrong: your guy will love this cooler!
3. The Solo Stove is the fire pit built for your backyard and beyond! It's super portable and uses a signature Airflow Design to create an efficient burn that- wait for it- creates almost no smoke! Hello backyard bonfire, goodbye lingering smoke smell.
4. Whether hanging at the beach with the fam, camping in the mountains, hosting a backyard BBQ, or simply wanting to add speakers around the house, a portable speaker like the Sonos Roam is a sure win. Equipped with long-lasting rechargeable battery, a 10+ hour battery life, and the ability to connect multiple speakers for multiroom use. Gifting made easy!
5. Perfect for the adventurous dude, this backpack carrier is adjustable for both dad and kiddo, making it extra comfy and secure. Includes a removable (and washable) drool pad, cord attachments to keep toys and pacifiers secure, a sunshade, and a large hydration sleeve. He'll be hitting the trail in no time.
6. A deluxe travel set that will have him fresh and clean, no matter where life takes him. Tucked inside the exclusive travel bag, he'll find a face moisturizer with SPF 20, a lip balm, a dual hair and body cleanser that smells oh-so-good, and an antiperspirant/deodorant that promises long-lasting odor protection.
7. Who doesn't love a well-maintained beard? Not into beards? We heard they grow on you (too much?). This cedar-scented, vitamin-enriched oil really is the Best Damn Beard Oil. Added bonus: this bottle is 3x larger than the competition!
8. This set of four handblown whiskey glasses is made from premium lead-free glass and features the topographic impression of the Rocky Mountains. Perfect for the man who enjoys the outdoors but also appreciates a strong 5 o'clock cocktail.
9. Jon Hart products are known to last a lifetime, and this coated canvas and leather overnight bag is no exception. Choose from 20 different colors/patterns and add a custom monogram to really make it his own.
10. Available in 13 colors and 3 sizes, this water repellant, floatable, and breathable hat is perfect for the active guy in your life!
11. The joggers so nice, we listed them twice! Vuori joggers are perfect for, well, pretty much everyone on your list. With less bulk than traditional sweats, the Sunday Performance Joggers will have your guy jumping for joy (literally and figuratively!).
12. This one is for your minimalist guy- sleek, sophisticated, and useful! The Ridge wallet is RFID blocking (think theft protection), comes with a lifetime warranty, and can be ordered as a cash strap, money clip, or both.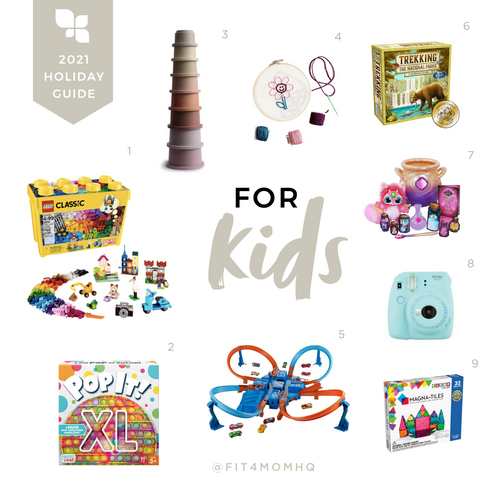 1. If you haven't been indoctrinated into the world of Legos, let us tell you, it's a game changer! The perfect gift for your right-brained creative type or your left-brained mini engineer, this Brick Box includes windows, tires, toy eyes, and various sized bricks to allow them to build and create for hours on end!
2. This addictive sensory toy has blown up in the past few years and we can see why! Perfect for containing fidgets and working on fine motor skills, this Jumbo Tie Dye Pop-it will be a crowd favorite.
3. Perfect for your littlest loves, these gorgeous Mushie Stacking Cups are perfect for ages 6 months+ to help them develop fine motor skills, but also look beautiful in your living room ;). They're BPA, PVC, and phthalate free, which means you don't have to worry about those cute little gums drooling all over them.
4. TBH sewing is a lost art and we all need someone who can fix a lost button or repair a hole in the sleeve. Grab your little fashionista this Kids Sewing Kit and sit back as Project Runway calls on the next biggest name in fashion (or they simply create a super cute and creative wall hanging and call it a day-- either way we're impressed!).
5. There's a reason this track set has over 14k nearly 5 star reviews and has made almost every holiday wish list this season: it's non-stop, action packed fun! Four intersecting tracks make this Hot Wheels Criss Cross Crash set fun for the whole family.
6. The perfect board game for the adventurous family: Trekking The National Parks. Part educational + part family fun makes this interesting game a must-have for your next family game night.
7. Our 90's childhood dream come true: a real world, sparkly magic cauldron that produces a furry stuffed friend! Magic Mixies produces 50+ sounds and reactions from both your little one and their magic wand. Hot Tip: Magic Mixies have sold out multiple times already this season, so keep your eyes peeled if you're having trouble finding one!
8. The Fujifilm Instax Mini 11 Camera is simple enough for your littlest budding photographer to use, but provides enough open-ended creativity to inspire even the moodiest of pre-teens.
9. These 3D magnetic tiles have been a favorite in early education for years, but are perfect for hours of open-ended play at home. Recommended for ages 3+, Magna-Tiles will bring out elements of math, science, engineering, and art, expanding your little ones mind to endless possibilities. We love pairing these with wooden blocks, figurines, and cars to create whole cities!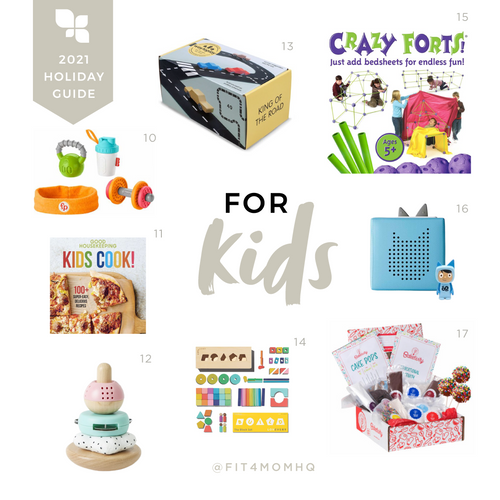 10. Is there anything cuter than a tiny baby shaking a rattle shaped like a barbell? We'll wait. This Fisher-Price Baby Biceps Gift Set is perfection. Plus, this set comes with a tiny baby sweatband, so get your camera ready and tag us in all your adorable, FIT4MOM-themed photos!
11. For the kiddo who has everything, try this Good Housekeeping Kids Cook cookbook. Perfect for ages 7-12, this book features100 super-easy, delicious recipes that you and your little chef(s) can whip up together!
12. Both aesthetically pleasing and perfect for growing babies fine motor skills, spatial perception, balance, and more, this Hape Stacker is adorbs. Different colors, textures, and shapes will have your babe engaged and entertained for hours.
13. One of the best things about this flexible race track is that it can be built anywhere! Indoors, outdoors, on carpet, hardwood, grass, or sand-- this high grade rubber track is a keeper.
14. Not sure if it's the beautiful colors or the endless creative combinations, but we're obsessed with this Lovevery block set. Recommended for 18 months and up and honestly, we're ready to sit down and start building a masterpiece!
15. This creative construction toy is your answer for every time they ask you "can you build us an epic fort?". Endless combinations of durable sticks and balls, the Crazy Forts set just needs bedsheets for an afternoon of unimaginable fun!
16. The Toniebox is an imagination-building, screen-free digital listening experience that plays stories, songs, and more. Each Toniebox comes with a different Tonie (or character figurine), which all have their own stories and songs. This version is a GoNoodle collab, helping kiddos bring good energy and mindful relaxation into their daily routines.
17. It seems like there are a million different kid's baking shows these days and well, it's gotten us inspired! The people behind Baketivity had the same idea and so they created an incredible monthly kids baking and cooking subscription! Simply have a box arrive on your doorstep each month with a recipe, the ingredients, a lesson, and an activity-- hello instant afternoon of fun! Bonus: they even offer gluten-free boxes!
BONUS: Stocking Stuffers for All Ages